Was an awful film. I just got back from a short trip to Amsterdam. Here are the headlines.
I had heard Amsterdam was full of evil and vice[the magazine also], gladly the good people at my hotel had planted a copy of the new testament in my drawer so that I could repent and be good again after s[h]moking all that s[h]weet hashish and bumming all that s[h]weet ass[h] the red light dis[h]trict had to offer.
Those of you who follow football [i dont.] will know that Scotland were playing Holland on Saturday, for me it explained why all the cheap hotels were booked and how the whole of Amsterdam had been drunk dry. Never had I seen 20,000 Scotsman in full attire party hard till the early hours, still clutching litre bottles of Smirnoff Ice and kebab rolls whilst saying "noooooo im fien" and "aye nice tash yu got there laddie". With 3-0 to Holland I think the joke was on them?
Then met up with this cool cat and her cronies who like many asked"why sho many shcottish peoples in dreshes"
Had to do the canal tour (twice on foot, once by boat)
,
met a rather nice American gentleman who had a rather vast and encyclopaedic knowledge of Architecture and all things Dutch. I decided to accompany him on his evening stroll and be educated in the like.
-no pictures
-no homo

Then went to a dubstep party where a couple of london guys played-not sure who I saw though, the residents were all playing really dark stuff that you wouldnt really hear at most clubs over here. A lot of moonshine and reedits, very well done to em think dubstep will be LARGE over there soon. It was strictly 2 people 1 t shirt vibes though...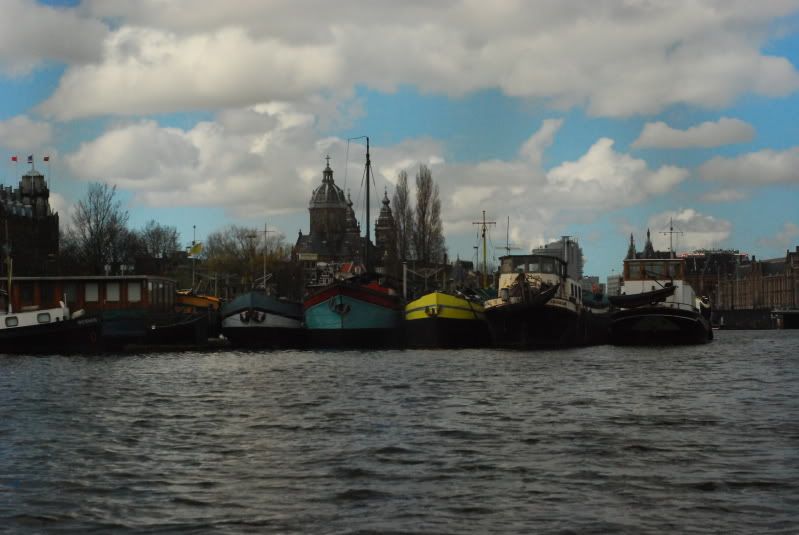 Woke up pretty late, did the canal tour by boat, listened to the tourguide tape being played in Dutch, German, French, English, Spanish and all over again.